AdVenture Capitalist v8.18.0 MOD APK (Unlimited Money)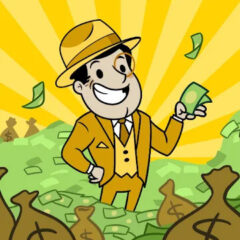 Updated

Version

v8.18.0

Requirements

Android 5.0

Developer

Hyper Hippo

Genre

Simulation

Google Play
Ever dreamed of owning your own business? Being the master of your own destiny? Becoming a capitalist tycoon? Do you just dream about money, even when you sleep? Then AdVenture Capitalist is the idle clicker for you!
FROM RAGS TO RICHES
Start from the humble roots of running a lone lemonade stand to becoming the CEO of a cash printing, money making multinational conglomerate.
SPECULATE TO ACCUMULATE
Sick of clicking buttons? Expand your capitalist empire when you hire managers to automate and boost your profits. The only way to go is UP!
DRESS UP LIKE A MILLION DOLLAR TROOPER
Deck out your Capitalist in custom outfits and accessories that not only look super duper, but also boost your businesses.
INVEST YOUR WAY TO SUCCESS
Attract eager Angel Investors to amplify your money-making potential. Each Angel earns you a boost to your profits. Every penny counts!
JOIN THE SPACE RACE!
Unlock AdVentures to the Moon and Mars and discover new investments, upgrades, managers, and items in space.
COMPETE IN LIMITED TIME EVENTS
Investors have the opportunity to play Limited Time Events which are on a regular rotation to earn rewards helping you become an octillionaire! Climb the leaderboard and collect event-specific Managers for even more Rewards in:
◆ The Root of all Evil
◆ Saturday Morning Fever!
◆ Live Your Profits
◆ Live Rich & Profit
◆ Cashella
◆ For the Love of Money
◆ The Excellent AdVenture
◆ Insert Coins to Continue
◆ Cashalot
◆ 1% Land
◆ Merry Merger
◆ Black & Blue Friday
◆ A Nightmare of Easy Street
◆ A Capitalist Carol
◆ New You Resolutions
◆ Profitabowl
◆ Cakeday
THE SHOP
Catch up to or pull ahead of competition, Investor, by visiting the store: Purchase more Gold, Time Warps, or specific Managers to help boost your finances. Your one stop shop for everything a fancy Investor could ever want while building an exorbitantly wealthy empire
WATCH THE NUMBERS ROLL IN
Get on with your day and make money while you eat, drink, or sleep. It's impossible to lose when you live the idle dream!
Your AdVenture of a lifetime starts today!
—————————————————————
AdVenture Capitalist is free to download and play, but it also allows you to purchase virtual items with real money inside the game. You can disable in-app purchases in your device's settings.
Playing AdVenture Capitalist requires an internet connection. AdVenture Capitalist includes advertising for third parties, some of which may be targeted to your interests. You may choose to control targeted advertising by using your mobile device settings (e.g. by re-setting your device's advertising identifier and/or opting out of interest based ads).
Greetings, Investors!
This update features support for all Investors. Come take a peek!
- BE BACK SOON! The "invite friends" feature has been temporarily removed for maintenance!
- SQUASH! Various bug fixes
More improvements and updates to come! As always, send your questions or feedback to
[email protected]
Profits, Progress and Partnerships!
Download AdVenture Capitalist v8.18.0 MOD APK (Unlimited Money)
There are no comments yet, but you can be the one to add the very first comment!